Tips on Tables - Robert W. Dana - October 2, 1952
Waldorf's Empire Room Opens for New Season
The Waldorf - Astoria proudly opened its Empire Room for the season last night. And proud it should be for its cuisine, its service and general air of hospitality as, it upholds a tradition so zealously earned.
As is customary with its seasonal openings, be it the Starlight Roof during the summer or the Empire Room during the fall and winter season, the menu was a special one, worthy of a gourmet's collection. From caviar to coffee it spelled out extreme dining pleasure.
Dinner Music.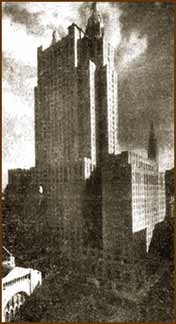 Dinner customers dined leisurely to the strains of Mischa Borr's accomplished orchestra, and guests applauded generously the group that has been a Waldorf mainstay for many years.
Then, when it came time for dancing, there was an enthusiastic reception for Alex Alstone and his orchestra. Mr. Alstone, prominent French song writer who recently put together his group, played an airy, crisp type of music, beginning with "Symphony" and running through our most popular show tunes of the moment.
Singing Pantomimists.
It all served as an auspicious prelude for the return of Les Compagnons de la Chanson, celebrated, singing pantomimists who opened last December in the same room.
With a backdrop screen of silvery two-tone gray to hide the Empire Room Menuabsent band, the nine Frenchmen put on a show that surpassed their earlier fine efforts, in our several clubs.
From the opening "Dreams Never Grow Old", to the expressive "Les Trois Cloches" they captured the audience with harmony and pantomime alive in every detail.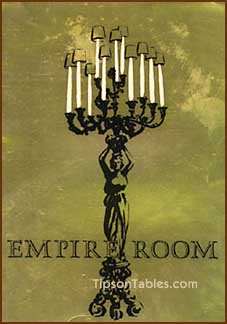 A complete drama is presented In "Song of the Bird," a story of community life that ends with the moral that "everything I would be better if they had the same In Paris."
There Is a song about a slave In a galley and the poignant number written for them by Edith Piaf called "Les Yeux de Ma Mere."
This is the only number In which a musical instrument is used, the traditional Frenc accordion, and when it's over, only the protagonist of the tale Is left on stage.
Les Compagnons have one number that is understandable to everyone with a sense of humor, a love for humor and an appreciation for good theater. It's the parody of "Au Claire de la Lune." The boys skipped their earlier first stanza, as done by an American vocal group as seen and heard through the eyes and ears of Frenchmen, but there's plenty of laughter left for the Russian Cossack version and the symphony orchestra production.
Above is the cover of the Empire Room menu. Below are the entrees.