From: Norman A. Schorr & Co.
369 Lexington Avenue New York 17, N.Y. TN 7-0575
For: Straus-Duparquet, Inc,
33 East 17th Street, New York 3, N.Y.
Toots Shor's New Restaurant Previews at Hotel Show
NEW YORK - A preview of Toots Shor's new restaurant, now nearing completion, will be displayed at the National Hotel Exposition at the New York Coliseum, November 6-9.
Straus-Duparquet, Inc., the firm which is furnishing and equipping the actual restaurant, is re-creating a 300 square foot section of the main Toots guestsdining room as Part of its Hotel Show exhibit.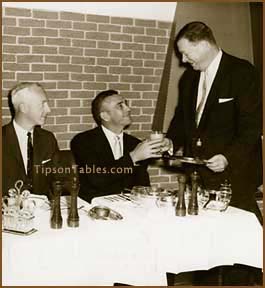 The "model" Toots Shor's will be complete with seating for 12, a fireplace, oak floors, and Flemish bond brick wall. But no bar or kitchen.
Scheduled to open Officially in mid-December, the real Toots Shor restaurant is being built at 27-39 West 52nd Street at a cost of $1,500,000- Kitchens, refrigeration, furniture, furnishings and supplies are being furnished by Straus-Duparquet which collaborated with Charles Luckman Associates in the design of the restaurant. H R H Construction Corporation is the builder.
Toots Shor's restaurant will retain its traditional atmosphere of "conviviality in the midst of luxurious surroundings." Although the three-story restaurant will be entirely new, it will resemble the famous "old" Toots Shor's in many respects.
The oversized circular bar, a New York landmark when Toots Shor's restaurant was one block south on West 51st Street, is being repeated on the main level just past the door in the new establishment.
There is one significant new note being added: a play for female customers. A light, feminine decor will be featured in the lover level dining room. Here the chairs will be smaller in scale than in the main dining room, the Frankiefloors will be carpeted, the walls will present an arched effect through the use of cherry wood panels alternating with vinyl wall coverings, and one wall will be illuminated to give the illusion of sunlight filtering in.
Focus of attention in the main dining room will be a Flemish bond brick wall in the center of which is a large fireplace with a distinctive hand-hammered, angular-shaped bronze hood. The chairs are light oak, upholstered in a deep red plastic.
Seating capacity of the three dining areas is 600. The basic color on the main and lover levels is crimson. On the mezzanine level grey predominates. Each level has its own bar to facilitate service.
Straus-Duparquet, which designed, fabricated and installed the kitchens in Toots Shor's former restaurant, is responsible for all food service facilities in the new one. These include the main kitchen on the lower level, a supplementary kitchen on the main level and a service pantry on the mezzanine. Each of the two kitchens will have its own oyster counter with a man on duty whose only job will be to open shellfish.
Some of the special china, glassware and flatware being prepared for the new restaurant, as well as some of the pieces of stainless steel kitchen equipment, especially fabricated for use in the restaurant, will be displayed at the Hotel Show.
Charley Conerly, ace quarterback of the New York Giants professional football team, joins Toots Shore and C.W. Robbins, Executive Vice-President of Straus-Duparquet, Inc., in a sneak preview of Toots Shore's new restaurant. A section of the restaurant has been recreated as part of the Straus-Duparquet's exhibit at the National Hotel Exposition, now being held at the New York Coliseum.
The restaurant's scheduled to open in mid-December at 27-39 West 52nd Street, is being furnished by Straus-Duparquet which collaborated with Charles Luckman Associates, architects, in designing the restaurant.
The actual restaurant will seat 600. The "model" section here sits just 12.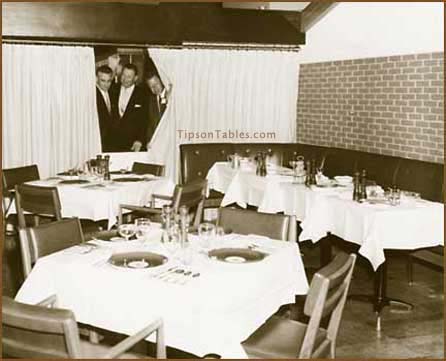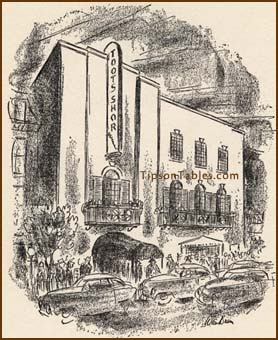 Click here to view Toots Shor's menu
Website visitor Mike Katz writes: Toots Shor: "My Dad used to take the family to Toots Shor's for Sunday dinner. My sister and I would have Oysters and a lobster or Roast Beef. Dad always had a scotch and roast beef, I think. The Men's and Lady's room were staffed by a married couple. The woman was Sally, I believe. When my sister and I returned from camp one year,they weren't there. We asked about them because they were always very nice to us.Apparantly Sally had shot and killed her husband over another woman. (If I have the names wrong, please correct me). The maitre'd was a pal of my Dad's. His name was Joe Harrison. Corrections appreciated. Reach me at Gratwicker@aol.com"