Tips on Tables - Robert W. Dana - November, 1963
Cafe Madrid - Spain on 14th St.
Truly named is the Cafe Madrid, the small, modest colorfully decorated Spanish restaurant at 207 W. 14th St. near Seventh avenue. Behind the bar are scenic tiles, a painting of a bull fight, and a raven-haired senorita, who assists in serving cocktails.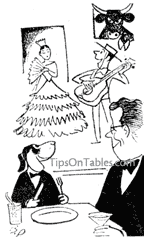 Cocktail, perhaps, like the Spanish martini, substituting for Vermouth the Manzanilla, made from a white grape from Sanlucar be Barameda in the south of Spain. You hear pulsating Spanish music and you venture beyond the mahogany partition topped with iron grillwork to the dining room. Here is a colorful mural, depicting a cortijo, a series of adobe houses in a square that belong to one who raises bulls for the arena.
Four From Galicia.
Owners Antonio Benavides (chef), Frank Ramos (host), Pepe Gonzalez and Louis Del Rio (who dispense drinks) are from Galicia in northwest Spain, famed for its rugged sea coast and seafood and the soup called caldo gallego. Their dinner menu features 19 main courses on full coarse meals priced from $2.50 to $5.95.
Cafe Madrid is open seven days, serving a table d'hote lunch from noon to 2 a.m.[sic], its regular dinner menu 3 to 9:30 p.m. The a la carte menu is available to 3 a.m. From 9 p.m. till closing, there is Spanish Flamenco guitar music by well known artists.
Spanish food is not hot, but it is well seasoned. Two of this restaurant's choicest treats are appetizers. One is the fried shrimp in green sauce Madrilena. You dip the jumbo shrimp in a sauce made of parsley, oil, garlic and other ingredients. The other is stuffed clams; clams mixed with mushrooms and liver to give the mixture good body and a special flavor.