Tips on Tables - Robert W. Dana - January 3, 1946
Black Angus Restaurant Puts Steaks on Peace Footing Again
Frustrated steak lovers of the war years, for several months, have been on an eating spree that has no end. They and other fanciers of plain but hearty eating may be expected to exhibit a form of epicururean delirium after visiting the Black Angus, new restaurant at 148 E. 50th St., named for the highly specialized beef stemming from the famed Aberdeen-Angus breed of cattle.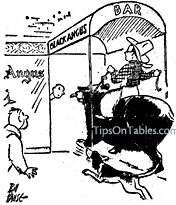 Pounded sirloin and tenderloin steaks for one person and chateau-briand cuts for two served with Bernaise sauce are the most popular choices. An Idaho potato that has been baked to just the right turn to properly accentuate its mealy goodness, then moistened freely with butter upon opening, rounds out the plate.
As the name Angus implies, hides of the animals are a pure black, and the restaurant uses small, hand-blocked silhouettes of the stubby, hornless breed as part of the decorative effect. It wouldn't do to have too much black, so, in dressing the bar with yearling hides, black-and-white Holsteins were used.
Simplicity Achieved.
Modern simplicity is skillfully achieved with settees and booths of pickled oak and red leatherette. Other colors are coral and eggshell white. Small baroque-styled electric fixtures provide subdued light.
Martin Palhof, chef, who formerly was at the George Washington in Palm Beach and the Kungholm in New York, reigns over a net kitchen that is but a mild suggestion of the well-stocked ice boxes and preparatory kitchens below.
Downstairs is the machine that prepares the Angus special, a ham and beef steak a la presse. The clever gadget, which cuts all the tough tissue, merges the two meats with a proficiency that is a tribute to the inventor.
Other good American meals are served. Continuing with beef, you can order boiled beef with horseradish sauce, chopped sirloin steak with Idaho baked potato and steak sandwich. Other favorites are filet mignon and prime ribs of beef.
Good Appetizerse
Double-rib lamb chops are an entree that will please your palate with its juicy tenderness. You also can order liver steak with onions and baked Idaho potato, milk-fed veal steak, broiled half of milk-fed veal steak, broiled half of milk-fed chicken, broiled ham steak and Vermont turkey with cranberry sauce.
Appetizers include shrimp and crabmeat cocktails, half grapefruit, pickled herring in sour cream, tomato or pineapple juice and fruit cup.
Apple, apple crumb nesselrode and huckleberry cream pies, biscuit tortini, spumoni and chocolate or vanilla ice cream and American camembert and rocquefort cheeses are listed for the final course. Menu
Memos: Black Angus Restaurant, 148 E. 50th St. American menu featuring Angus steaks. Luncheon, 11:30 a.m. to 3 p.m.; a la carte entrees from 70 cents. Dinner, 5 to 10:30 p.m.; a la carte entrees from $1.50. Supper, 10:30 p.m. to closing; specialties like black Angus frankfurters, tarter steak and cube steak on toast; entrees from $1.10. Cocktails from 45 cents. Open daily.