Tips on Tables - Robert W. Dana - 1955
Steaks in Demand At Jack Delaney's Sea Colony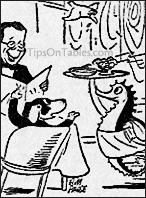 People take delight in reporting they've found a nice restaurant off the beaten path, where they're not rushed and where the atmosphere and decor are nice and peaceful and soft. Some of these have ben pleased to discover the Sea Colony, a refreshing five year old seafood restaurant at 52 Eighth Avenue, a few blocks below 14th Street.
Open daily for lunch and dinner, from 3 p.m. Sundays, the restaurant includes an attractive front room with bar, a knotty pine main dining room and a recently added party room that handles 75 persons. Nautical objects and other pieces of art in good taste reflect the woman's hand. A shutter door blends beautifully into the dining room to hide the entrance to the private room.
Seafood is Featured.
The menus, table d'hote from $1.15 at lunch and a la carte until 10:30 p.m. the rest of the time, feature mostly seafood, although meat eaters can order steaks, chops or chicken. An interesting feature is the way they divide portions of the a la carte menu into sections listing individual fish (the kind with bones) and steak fish.
Among chef's specials at the Sea Colony are the broiled jumbo scampi, not shrimp or crayfish, but imported midget lobster tails from Denmark. A fine delicacy, they're served with drawn butter, tossed salad and potatoes for $2.50.