Gage and Tollner's had its beginning when Charles M. Gage opened an eating house at 303 Fulton Street Brooklyn, in 1879. He was joined by Eugene Tollner in 1880 and the business became known as Gage and Tollner's in 1882. The restaurant was moved to 372-374 Fulton Street in 1892.
Tips on Tables -By Robert W. Dana - August 8, 1956
Gas Lights Recall the 80's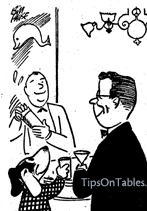 Young Tom Dewey, one of the Dewey Brothers, who are carrying on the fine tradition of Gage and Tollner's, Brooklyn's famed 1879 restaurant at 372 Fulton St., explained why the gas lights weren't turned on at this time of the year.
"The natural gas gives more warmth than light and disturbs the air conditioning," he said. "But we'll have them on again once turtle-soup weather arrives."
That means cold weather, about November, when they buy their own live turtles and make their own hearty soup in a three-day operation. As for the gas lights, they were turned on for a two-weeks period on the restaurant's 75th anniversary a few years ago, and such was the response that during the winter, folks can dine by lamplight Mondays and Tuesdays.
A Strange Intrusion.
The house in which Gage and Tollner's operates was once a private home. Strange is its portice, jutting out on busy Fulton St., a block from the new and modern Civic Center. But it doesn't seem so strange when you see the inside, an unspoiled, and elegant specimen of the 19th century, with its long room, heavily mirrored walls and sturdy mahogany tables. And while the ancient leaded-glass bookcase that serves as a wine cabinet at the entrance wasn't intended for such service, it is a proper adornment.
Tom and Ed Dewey respect the tradition of their restaurant by remaining closed Sundays and holidays, leaving these for families in the home. But all other times they are open for lunch and seafood and meat at a la carte prices. On the seafood side, the restaurant has received four successive Holiday awards.

Gage and Tollner's menu is in the form of a book. A casual glance impresses one with the variety of preparations of clams, lobsters, shrimp, crabmeat and oysters (when these are in season).
Belly Broil a Gem.
I'm told the belly broil, using only the, belly of the soft clam, is a gem, of a dish !or $1.35. I say try the deviled crab for $1.85.
"Uniformity and the holding to tradition, is sometimes hard to achieve," said Mr. Dewey. "For a time we used sterilized crab shells, or our deviled crab until they were hard to get. The aluminum ones we use now serve the same purpose, but they don't have quite the same eye appeal.
Steaks, chops, chickens, eggs, omelets, Welsh-rarebits and salads are all a part of the story . of Gage and Tollner's. So is headwaiter Leon Gaskill, who has served there 51 years, and my waiter, Dave, who has been there 32 years and has added Bloody Mary and screwball to his knowledge of drinks. The Dolphin Bar, at the left as you enter, is big enough for four skinny men. It's a bright newcomer.