Tips on Tables - Robert W. Dana - August 1, 1949
Jack Dempsey's Is Notable For Special Dishes
A visit to Jack's neat little two-room Italian-American restaurant at 344 W. 46th St., almost always starts with a cocktail or aperitif at the tiny bar to the right as you enter, for the word has been bruited about over the years how excellent are the concoctions mixed, stirred and shaken by Al Vadelfi, former boxer. Always a tray of glasses to his left, being iced for the perfect drink. Chianto bottles hanging from an archway lend additional atmosphere.
While sipping your drink - if indeed you do stop at the bar - you might be interested in following the lead of many customers in ordering fresh chopped chicken livers, served hot on toast for 75 cents.
Then to your able for the rest of the meal, be it a whopping big sirloin steak (for which the house is famous) with baked potato, French fried onions and mixed green salad ($4.50) or one of the lesser-priced items, but equally tasty, such as Long Island duckling bigarade with candied sweets and apple sauce and salad ($2.50), veal cutlet parmigiana ($1.75) chicken cacciatore ($2.25), sliced chicken with broccoli au gratin ($1.75) or roast Virginia ham with candied sweets - all with vegetables.
Murals from Hit Shows.
Jack's was taken over a couple of years ago by Anthony Passeggiato and his charming wife, who previously were well known on the East Side. Because of its nearness to the theaters, last winter they had Malcome Kildale execute colorful murals of scenes from former hit shows for the front room and murals of Italian wine provinces for the back room.
Anthony, although his restaurant is primarily a place for Italian and steak specialties, realizes that some of his customers might like dishes with a touch of the French. For them he has onion soup au gratin, chicken livers en brochette with wild rice (a great favorite for $2) and frogs legs provencale.
Good Seafood Selection.
There is always a good selection of seafood to sample from the menu such as clams casino, shad roe and boneless shad, soft shell crabs, boiled shrimp maison, mussels marinara, scallops en brochette, curry of shrimp with rice, broiled lobster and lobster fradiavalo.
Desserts aren't played up particularly. There are thing like parfait nesselrode, peach melba, caramel custard, spumoni and bisque tortoni.
Menu Memos: Jack's Restaurant, 344 W. 46th St. Italian American menu, Pietro Cirello, chef. Table d'hote lunch,$1 to $1.75. A la carte dinner, steak with potato, French fried onions and salad $4.50, other entrees including vegetables from $1.25, full meals averaging $3.50. Fine wines and liquors. Closed Sundays.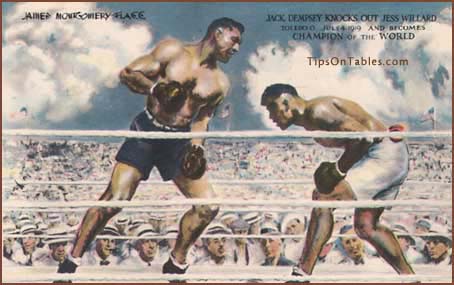 Postcard from Dempsey's Restaurant but at the location of Broadway between 49th & 50th Sts. in New York. The illustration above shows Dempsey on the right, crouching and bobbing his way to a heavyweight victory over the giant Jess Willard to win the championship of the world on July 14, 1919. The Willard camp always maintained that Dempsey must have loaded his gloves with something because Willard was so busted up. Since then, a representative from the other boxer's camp is present when a fighter laces his gloves. Before Dempsey, the prominent fighters of the day stood straight up with their knuckles in the down position. Since Dempsey, all fighters adopted the style with knuckles up or sideways. Dempsey was eventually defeated (twice) by Gene Tunney but remained enormously popular throughout his life.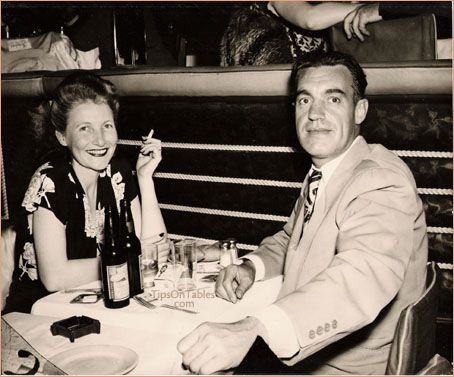 These two photos of patrons were sent in by Cindy B. and her Uncle Bill. The top photo is Cindy's Grandparents (notice the ring ropes) and at the bottom is an autographed photo of Jack with Cindy's Great Uncle, Tom Dooney, and his wife, Edwina. Thanks guys for sending in these great pics!!