Tips on Tables - Robert W. Dana - June 12, 1953
Biltmore Introduces Charcoal Grill Room
The Hotel Biltmore this week inaugurated a new service in the Tudor English cafe that overlooks 44th St. in a corner off the lobby floor. It brings the charcoal grill, an outdoor delight in suburban back yards these days, to such apartment dwellers who must yearn those days for that tantalizing aroma of a grilled-over-charcoal steak.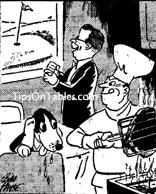 In a press preview Wednesday, the cafe, which is open for breakfast and for men only at lunch, the room was named "Charcoal Grill" for the evenings, daily from 6 a.m. to 1 a.m., and many were the exclamations of delight from persons' who relished the large, well-spaced tables and the fine mellow look of the room.
It is, indeed, a right handsome one, with its matched mahogany, hand-carved paneling and graceful chandeliers. The guests also were much impressed with the oil paintings by Erawin S. Barrie of the country's most famous golf holes. One by Mr. Barrie, who is director of Grand Central Art Galleries shows the hole outside the Eisenhower cottage (summer White-House) in Augusta, Ga.
Easy-to-Read Menu.
The menu for the new service is attractive easy to read and to understand. The charcoal-broiled specialties, priced from $2.75 (half broiled Delaware chicken) to $5.25 for a one pound prime sirloin steak are served with your choice of baked Idaho or French fried potatoes,"a green salad in a large wooden bowl and hot rolls passed by a pretty girl.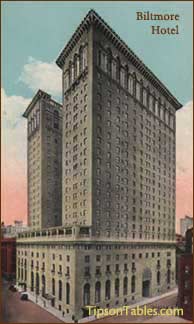 It's a fillip to the appetite when the steak approaches. Even with your back turned you know it's on the way by its trail of smoke. This smoke, incidentally didn't bother the guests. They relished it.
They have a junior-size, sirloin steak for $4.50 that is large enough for many persons, particularly If they have preceded it with an excellent shrimp or crabmeat cocktail ($1.25). Prime ribs of beef, giant rib, lamb chop, English mixed grill, Rock Cornish game hen and Old Smoky Ridge ham steak are other choices.
For Sea Food Lovers.
For seafood lovers the Biltmore offers a two-pound live, broiled Maine Iobster, and they have additional seafood dishes for those who request them. The wine and liquor end of the new service is also Interesting. Let us say you have had a king -size martini, Manhattan or daiquiri for 75 cents, before the meal. It stands to reason then that you might not want a full bottle of wine. Therefore, the management has arranged a fine selection of American and imported wines in half bottles.
And, when the meal Is over, they will wheel up a cordial wagon for you to pick your favorite.
Maitre d'hotel of the Biltmore is Mr. Joseph. Headwaiter of the Charcoal Grill is Mr. Victor.