New York Herald Tribune - Sunday, July 11, 1943
New York is Still a Paradise For Gourmet Despite Rationing
Rationing has affected the menus of New York restaurants, just, as it has affected the dining facilities of other cities. The restaurants here largely have adopted the policy of setting Tuesday and Friday apart as meatless days. Even then the number of points available does not permit the consumption of more than a limited number of Mrs. Wagner's filet mignon and other choice cuts. But with all these restrictions, nothing has been able to curtail the variety and universality of our restaurants, which offer the opportunity of going around the world on a menu.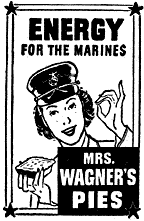 When the gourmets get together they often discuss the merits of what they choose to call the ten best restaurants in New York. The lists differ, of course, just as do the lists of plays and films and football players. It is likely that one has heard, of such superior restaurants as the Colony, Brussels, Passy, Voisin, Chamblord, Chateaubriand and La Belle Meuriere.
New York has several high-grade Swedish restaurants, among them the Castleholm. Three Crowns. Gripsholm and Kungsholm. The list of small French restaurants in the medium-price range,is almost unlimited, including" Le Veau D'Or, Theodore's Henri, Cafe St. Denis and La Salle du Bois as a few examples.
Ruby Foo's Den and Lum Fong's are the Chinese restaurants best known in the city, at least by the majority.
Strangely enough, In thinking of restaurants in New York, one seldom considers the Purely American ones, but there are many. Three of the most popular are the White Turkey Inn., Hearthstone and Olney Inn.
There are the great New York landmarks like Ye Olde Chop House, Whyte's and Massoletti's in the downtown section, Keen's English Chop House, Billy the Oysterman King of the Sea, Cavanagh's, Luchow's, Hotel Lafayette, Gage and Tollner's (Brooklyn) and the German-American Rathskeller.
Long established and convenient all over the city are the restaurants of such chains as Longchamps, Savarin, Schrafft's, Childs' and Stouffer's, not to forget the Automat, whose mechanical way of serving its customers is a delight to many.