Tips on Tables - Robert W. Dana - March 16, 1959
Eden Roc Rolls Out the Carpet
In over three years at 148 E 48th St., Eden Roc has established itself as one of the city's leading dining and dancing rendezvous, noted for Its cuisine, color, class and clientele. You can thank owners Frank Harris and Harry Tsakas and the staff, who have worked together for many years, for its friendliness and efficiency.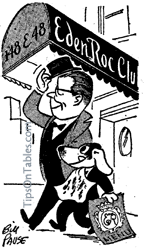 From the moment a guest is greeted by Andrew, during the day, or Gregory or venerable Jack Spooner at night, he gets an immediate feeling of relaxed pleasure ahead, whether it be at the bar, where affable Dick Aiello directs a crew of five, or in the spacious dining room, decorated in American-beauty red.
Tremendous white baroque chandeliers, antique mirrors covering square columns and two impressive picture windows in gold frames lend grace and elegance to the warm room. Banquettes are set on graceful legs, comfortably apart from each other, and extra-large tables accommodate rich and uncluttered settings, with a fresh rosebud in a vase to set them off.
Carpets Removed.
At 10:30 p.m. the carpets are taken back to reveal an inviting dance floor. Thenceforth for four hours, customers may listen or dance to the excellent music of the Eden Roc trio. Society favorite Kurt Maier is at the piano for most of the season.
Mondays through Fridays, Eden Roc is open for lunch through supper and Saturdays from 5 p.m. It Is closed Sundays. A distinguished French chef, Pierre La. Crampe, eden roc is the culinary general and his menu highlights are crabmeat Andrew, boneless rock Cornish game hen stuffed with a skillfully prepared pate, colossal shrimp, breast of capon soufflé and smoke house baked turkey.
A La Carte Menu.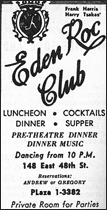 Menus are a la carte, entrees on the lunch starting at $2 (omelet aux fines herbes) and dinner entrees from $4 up. If you're fond of lump crabmeat and appreciate a good Russian dressing, that's a splendid appetizer to begin dinner with. Or, if your main course isn't too rich, crabmeat Remick is another fine choice.
Kurt Fisher was my alert captain the other night. The way, he served the tasty Long Island duckling bigarade made the well-prepared dish seem even better. Other special dishes on that night were breast of capon Marechale, sliced tenderloin of beef Bordelaise and squab guinea hen Montmorency.
The town's leading advertising brains lunch at Eden and at dinner there's a healthy sprinkling of society folk, leading , business lights and top theater luminaries.