Tips on Tables - Robert W, Dana - July 9, 1952
Latin Quarter as Madly Gay as Paree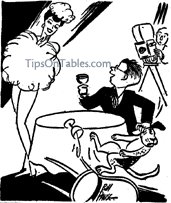 It makes no difference to Lou Walters whether it's summer or winter in so far as entertainment at the Latin Quarter is concerned. His policy is geared to semi-annual changes in the complete production, with star lineups changing hands frequently to please regular customers as well as occasional visitors.
His newest lavish layout, called "Ca C'est Paris," headlines the Trio Chalivel in a return engagement. The three lads came from a full year at the Lido in Paris, judging from audience reaction at the Quarter, Lou could keep them the same length of time.
They must tap their energy from a secret reservoir because their breathtaking twirls and twists are astounding in pace as well as duration. They show amazing versatility with solos and group work. They lend humor and imagination and great skill to the realm of dance.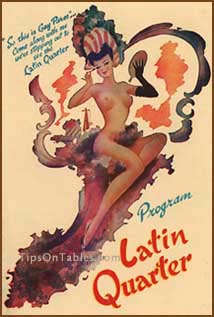 In the singing department Lou features the De Castro Sisters, Cuban favorites who offer every type of American tune, including a take off on Johnny Ray. They have been referred to as the Ritz Bros in dresses. The gowns are well filled.
Lucienne and Ashour are hilarious in an Apache knockabout act, the, man tossing the girl around to the point when she would seem not to have an ounce of strength left. She fools everybody by doing a complete turnabout and giving her partner a taste of his own medicine.
In a holdover role, Cass Franklin and Monica Lane are introducing a new set of tunes.
Mr. Walters ranges far for novelty. He has found it in Nejla Ates, a Turkish delight. She wiggles, tosses and turns. She's saucy looking, yet has a baby face. She's for the tired businessman, hardly for Aunt Zebediah.
The production over-all boasts elaborate settings and costumes, a beautiful line of dancing girls and the excellent musical, background of Art Waner and his band. Buddy Harlowe's band helps out on dance sets.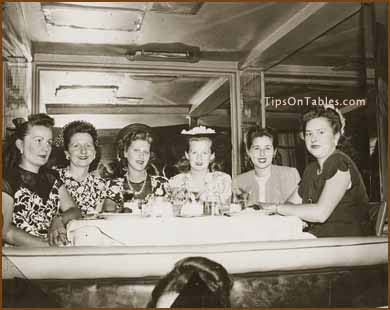 Wednesday was ladies night, half-priced bus fair to New York City from New Jersey. Pictured on their ladies night out are patrons Olga Parrone, Helen Nicoletti, Jane Fekete, Erma Yacovoni, Gloria Zavetz and Virginia Jackson at the world-famous nightclub circ. 1943 . Below is the Quarter's floor plan and below that is a note from owner Lou Walters.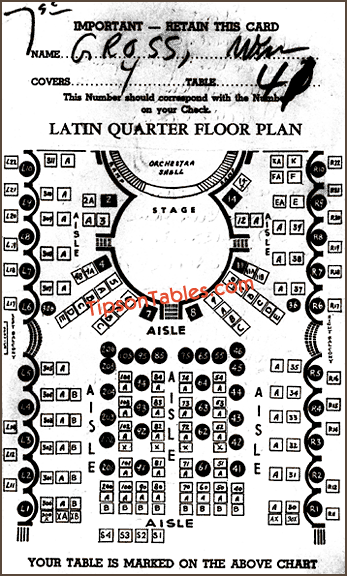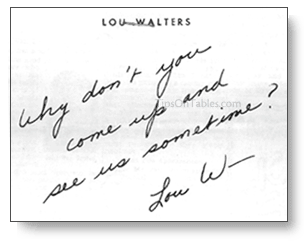 Photos below courtesy of David Millner!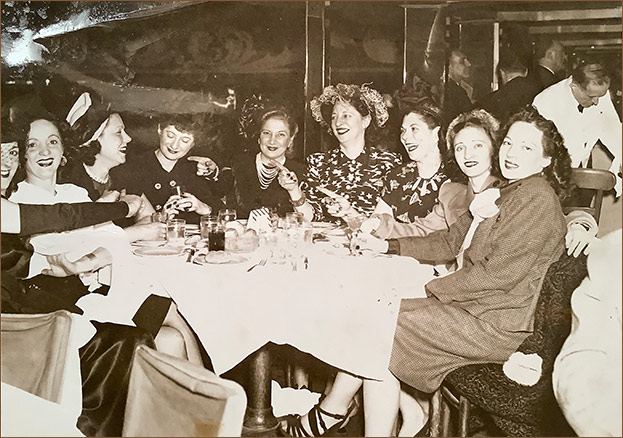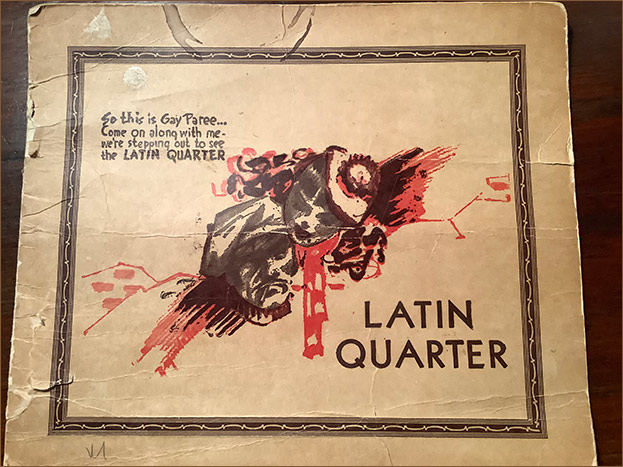 In 2006, website visitor Kim Moses wrote: "I live in Boston, MA - and the neighborhood I live in, Bay Village, used to be home to the very first Lou Walters Latin Quarter, and among other night spots of the 1930's and 1940's was the Coconut Grove. The Grove burned down in 1942 killing over 400 people, it was one of the tragic events in Boston, and if anything good can come out of a horrific event it was a series of fire laws inspired (from the tragedy) and created (for the safety of the public) from the burning of the Coconut Grove.
In addition to nightclubs, Bay Village was originally known as the Film District - it's proximity to the Theater District and Downtown areas was the perfect spot for major film studios to rent or buy the old brownstones, convert them into screening rooms and film libraries. Music publishers, poster and playbill companies and booking offices had space here as well as residents - it was a truly multi-use neighborhood. In the 1920's it was home to a number of "speaks", barbershops (most likely used for gambling) and housed the first "Arts and Crafts' foundation and a Children's Hospital.
I live across the street from where the original Latin Quarter stood, around the corner from the "late" Coconut Grove restaurant & nightclub and from where the Universal screening room was and just down the street from where Columbia, Republic and Loews and MGM had their screening rooms and libraries. Directly across the street still stands a music publishers building, you can still see the names of the companies etched onto the stairs.
Today, Bay Village is a collection of the most unique and interesting buildings, great history and the best location in Boston. The residents are outgoing and love and protect the neighborhood.
I love your web-page – it is one of the most original web-pages that I've come across in over ten years of web surfing! You've developed the kind of web-page that the web was meant to host".