Tips on Tables - Robert W. Dana - April 6, 1953
Soft Jazz, Good Food At Embers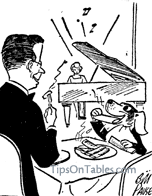 Lovers of music in the soft Jazz idiom can have a tasty dinner and while away an interesting evening at the Embers, 161 E. 54th St. For two years Ralph Watkins has made it one of New York's most popular night spots.
As you look over the a la carte menu for dishes to suit your fancy, three items stand out in bold type: Southern fried chicken ($2.50), barbecued baby ribs western style ($2.75) and succulent baby pork roast with apple ring ($3).
I wanted the ribs and I wanted the roast, but compromising by ordering rib tid-bits as an appetizer for $1.25 And following with roast Vermont turkey with dressing. With the entrees you have a choice of mashed, French fried, hash brown potatoes or candied yams.
The Right Music, Too.
As you're eating the well-prepared food you relax to Bunty Pendleton's piano playing. Her choice of show tunes are always warm and lilting.
Later in the evening, Red Norvo and his musicians and the Jo Jones group alternate on the bandstand. Red, who just returned, was engaged for a one-week fill-in last time and stayed seven months. His soft, harmonious vibes playing, augmented by the dexterous string work of a guitar and bass, and his selection. of classic tunes with a progressive twist make him extremely popular.
On the other hand, the Jo Jones group offers muted jazz in a different range. Jo, a familiar figure at the Embers, is the driving drum force behind the Joe Bushkin Quartet when Bushkin is there. For this engagement Jones has the same three members of the quartet without Bushkin.
Comfortable Spot.
Tyree Glenn comes on to Join the group, playing a lively vibes, which doesn't conflict with Norvo since the styles are opposite. Glenn then goes into a muted trombone solo that is something to hear. The group then joins him on some mellow tempos, with Jones' soft drum solos a highlight.
The Embers is a right comfortable place, with pickled pine panels stained to a mellow shade, a large, make-believe fireplace in the rear and a series of banquettes that can put you to sleep with their comfort.
Service Is alert and swift but not in your, way. The waiters know they're serving good food like working for Ralph, who makes friends with everybody.