Where to Eat in New York - Robert W. Dana - 1948

Stork Club - 3 East 53rd Street

It's the most famous night spot in the world, thanks to a high-pressure publicity campaign that goes on like perpetual motion. Walter Winchell decided to adopt it as his own pet hangout and others followed like lambs.

Of course at the bottom of it all is a smart, mild-mannered man named Sherman Billingsley, who hails from Oklahoma.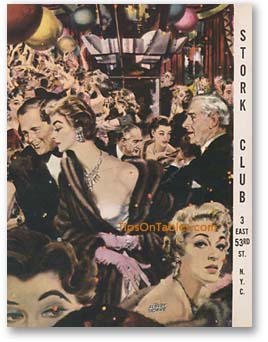 He doesn't drink or smoke but he knows how to keep the customers coming back night after night.

Some years ago, when the Stork had definitely won its battle for survival, Mr. Billingsley decided to open an inner chamber for his best customers, a place where Hollywoodites, politicians, and other celebrities could sit quietly and chat, drink, or play gin rummy.

Called "The Cub Room" it filled up nightly. Bing Crosby is always there when in town, the only man allowed to smoke a pipe in there. Table NO- 50 is probably the most photographed table in the world, having welcomed such celebrities as Jim Farley, J. Edgar Hoover, the late Damon Runyon, the Roosevelt boys, Admiral William F. Halsey, and, of course, Winchell. That's where the press agents look for Walter to give him "hot" tips.

The Stork features food as well as celebrities, excellent food from a kitchen stressing French cuisine. Several dishes have been born there, like the famous chicken hamburger, which is a tasty mixture of boned and ground chicken mixed with salt, pepper, nutmeg, butter, heavy cream, and bread crumbs. The hamburger is served with tomato sauce, French-fried sweet potatoes, and buttered green peas.

All of the many wonders of the French cuisine are trotted out at one time or another. They look beautiful, taste delicious, and are presented with smooth efficiency. One of the favorite desserts is a confection called "Snowball," a ball of ice cream covered with shredded coconut over which chocolate sauce has been poured.

Open daily. A la carte luncheon and dinner. Full-course dinner averages $6. Air-conditioned.
The cover of the Stork Club's menu had a drawing of many of the stars who frequented that establishment by artist Al Dorne. Click here to view it.